Review Process
The KJEB operates a double-blind review system. All submitted manuscripts are reviewed in advance by the editorial board to determine whether or not to proceed with the review process. This process evaluates submitted manuscripts for compliance with the KJEB's aim, scope, and writing guidelines. The editorial board requests the review of manuscripts that have passed preliminary checks by two or more reviewers from institutions different from the author. The reviewers review the manuscript based on the following items: 1) the academic value of the manuscript; 2) completeness of the manuscript in terms of composition and systematization; 3) objectivity of survey, experimental, and analytical methods; 4) adequacy of tables and figures and academic level of discussion; 5) appropriateness of citations and notation of references; 6) originality of the research content, and 7) the appropriateness of the research contents from the perspective of universal ethics.

The reviewer makes the following decisions based on the evaluated items: A) Accept: The submission can be published without revising the contents.
B) Accept with minor revisions: The submission can be published after minor corrections, including typographical and contextual errors in the manuscript.
C) Major revision: Re-review is required after revising the overall composition and content of the manuscript.
D) Reject: The submission is not suitable for publication in the KJEB.
The editor-in-chief collects the reviewer's decision and the editorial board's opinion and notifies the corresponding author of the final decision by e-mail. If the author is not convinced of the review results, they can raise an objection to the editorial board by e-mail within one month from the date of notification. The editorial board scrutinizes the objection raised by the author and decides whether to proceed with an additional review.
Vol. 40 No. 4 (2022.12)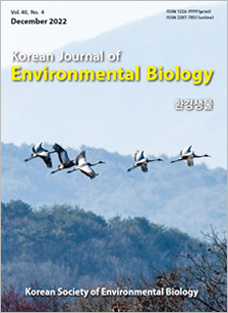 Journal Abbreviation

'Korean J. Environ. Biol.'


Frequency

quarterly


Doi Prefix

10.11626/KJEB.


Year of Launching

1983


Publisher

Korean Society of Environmental Biology
Contact info
Any inquiries concerning Journal (all manuscripts, reviews, and notes) should be addressed to the managing editor of the Korean Society of Environmental Biology. Yongeun Kim,
Korea University, Seoul 02841, Korea.
E-mail: kyezzz@korea.ac.kr /
Tel: +82-2-3290-3496 / +82-10-9516-1611